Honeysuckle is the fragrance of summer to me.
As outside temperatures get warmer every day, I think about what I used to do when I was a child, and it was so hot outside. My three sisters and I played outside all day, all summer long.  The four of us would ride bikes for miles, pick blackberries and eat them immediately, run through the sprinkler, drink from the hose (so we didn't have to go inside), and build a fort in the honeysuckle bush.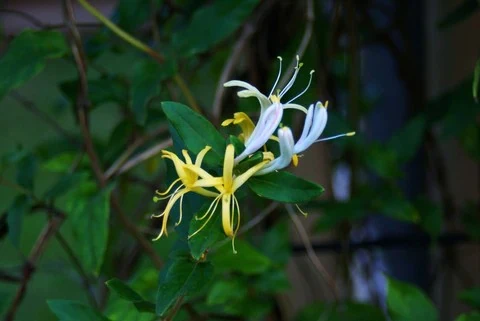 Our honeysuckle bush grew into what looked like a big green ball. Lots of branches form the "trunk", grew up and out, shaping the ball.  All of the branches became woody and dry on the underside. The outside was filled with honeysuckle blossoms in the summer. My sisters and I would crawl in under the drooping branches and break out all of the woody part of the branches all the way around the bush until we could sit up inside our ring shaped fort.
We camped out in the fort for hours, snacking on the honeysuckle blossoms. Our beloved honeysuckle bush provided us with many days of enjoyment and shade from the hot sun.  It was fun to pull the blossom off the tree, pull out the stem with the green top, and suck the liquid drops out of the flower.
So sweet.