Last time we discussed how to make felted soap. Since then, I've had a few questions about how to use the soap. If I missed anything you'd like to know, please contact me. I love talking about goats and soap!
Do I need to remove the felting before I can use the soap?
Please don't! The beautiful wool is meant to cling to and cover the soap.
What are the benefits of using felted soap? 
Your soap lasts longer! The felting becomes your washcloth and after a few uses the soap comes through the wool. With regular use, your soap should last about two to three months.
Will I still be able to smell my favorite fragrance through the wool?
Yes.  After the first few uses the soap will work its way out into the wool and wait for the next time you use it.
Can I use my soap every day?
Please do. I have chosen the Blue-Faced Leicester wool because of the extra-gentle exfoliation that it provides.
Can children use felted goat milk soap bars?
Absolutely.  The gentle exfoliate is perfect for removing the dirt and stickiness that always find a place to hide on children.  I have 3 grandsons who prove this quite nicely. And farming has nothing to do with the amount of dirt they get into! Can I use my felted soap bar on my face? Yes!  The wool will safely exfoliate your whole body – head to toe.  No loofah or walnutty scrub necessary *If you have any skin sensitivities, please check with your dermatologist before using a felted soap bar.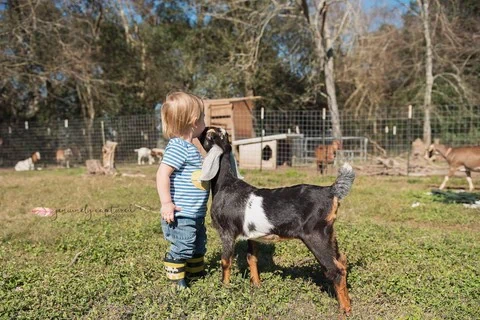 Is there anything else I can do with my soap bar?
Cleaning your shower and sink is an excellent (and green) use of the felt after the soap has been used up.

How do you dispose of the wool when the bar is gone?
I have not disposed of one yet.  I like to repurpose natural products as much as possible.  I will tie my felt to a tree branch and let the birds and squirrels use it for nesting material.