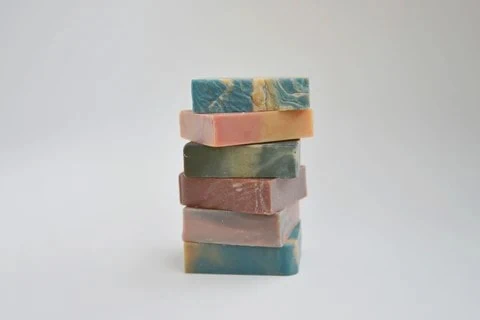 How do I choose the ingredients for my handmade bars of goat milk soap?
I want what's best for my skin and for those in my family, from my youngest grandchild to my aging parents. My process is pretty simple. First I add ingredients like shea butter, cocoa butter, and a few oils. Then I focus on fragrance.
Why Shea Butter?
Shea butter is like a superfood for our skin. It's a triglyceride extracted from the nuts of the African Shea tree. In its unrefined, raw form, shea butter contains vitamins A and E and fatty acids. Our skin is nourished, moisturized, and our skin elasticity may be improved. The 2010 Journal of Oleo Science reported that shea butter contains cinnamic acid, which could repel both inflammation and tumors.
Why Cocoa Butter?
Moisture, moisture, moisture. And cocoa butter contains cocoa mass polyphenol (CMP), which helps ease dermatitis or rashes. With such a pleasant scent it's perfect for aromatherapy uses, too.
Why Coconut Oil?
Coconut oil has been around for thousands of years. This oil contains medium chain fatty acids (MCTs) that help smooth the skin. I love it for the lather!  Just the right amount of coconut oil provides excellent lather, not to mention all of the moisturizing effects.
Avocado Oil?
Avocado oil has a smoothing and soothing effect on skin. It's loaded with monounsaturated fatty acids and vitamin E.
No Vitamin E?
No. Vitamin E is in the unrefined, raw shea butter and avocado oil, so there is no need to add more.
Is There Really Coffee In my Handmade Goat Milk Soap? Why? 
I love the smell of fresh coffee any time of the day! Who doesn't? You know when you're testing perfumes at your favorite shop and you see the small bowls of coffee beans scattered about the shelves inviting you to pick them up and have a sniff? Coffee beans clear your nasal passages and can remove unwanted odors!  That's why I add freshly ground coffee to my soaps. Coffee removes cooking, gardening, hunting, or fishing odors from your skin.
The other reason I add coffee to my goat milk soap is very personal. First of all, I love the smell of fresh coffee any time of the day. About six years ago I was making a new soap which contained ground coffee beans and my thirteen-year-old son, Josh, was so excited for the curing process to be over.  He just couldn't wait to try the coffee soap.  He'd walk by the curing bars almost every day and take a big breath.
Josh never got to try that soap though because he died in an accident right before it was ready.  Well, much time has passed and I'm ready to make the coffee soap again.  Just last week I layered the coffee soap with Hunter's Glen and Warm Vanilla Sugar.
Why is Goat Milk Soap Good for our Skin?
Goat milk soap is nutrition for our skin. The oils, butters, and milk, plus glycerin equal saponification – a chemical reaction that converts the oils into soap.  Glycerin acts as a humectant and seals in the oils already produced by our body, along with the extra vitamins already in the soap.  So you clean your skin and moisturize it at the same time.
Good for all Skin Types?
Yes, but those with sensitive skin should always start with my fragrance free soaps or lotions.
Is Choosing Fragrances Difficult?
Years ago when I first started making soap, I made my favorites first, then moved on to aromas from a special memory. Now I make scents by request and love to combine scents to make originals like Sweet Dream and my signature fragrance, Refine.
Every year in May and June, I make Lavender, Lavender Lemongrass, Citrus, Sandalwood & Spearmint, and Essential Scrub.  These are my essential oil blend soaps.  I think they will work well together as layered bars, too.  I've wanted to combine Lavender and Citrus so this will be my chance.
I'm also considering another floral fragrance like hydrangea. Hydrangea may add just enough of a light floral fragrance to my Lavender and Citrus Splash soaps.  Dreamy!  Now that blend would be worth taking a good long soak in the tub (and as my family and friends can tell you, I don't do baths…who has the time!!?).
Look at that!  I just planned my next experimental batch of soap before your very eyes.
Sometimes I surprise myself!
If you'd like to try any of my new blends or have a request for a special blend, Email me!